CME IMPACT, GEOMAGNETIC STORM
http://spaceweather.com/
CME IMPACT, GEOMAGNETIC STORM: As expected, a CME hit Earth's magnetic field during the early hours of October 2nd, sparking a G2-classgeomagnetic storm. In North America, auroras spilled across the Canadian border into more than a dozen northern-tier US states. Jason Brownlee sends this picture from Bend, Oregon:
"It's not too often we get to see Northern Lights in Oregon," says Brownlee. "It made a special appearance last night in the Cascade Mountains. "
The storm has subsided now, but it could flare up again. NOAA forecasters estimate a 50% chance of more polar geomagnetic storms as Earth passes through the wake of the CME on Oct. 3rd. Aurora alerts: text, voice.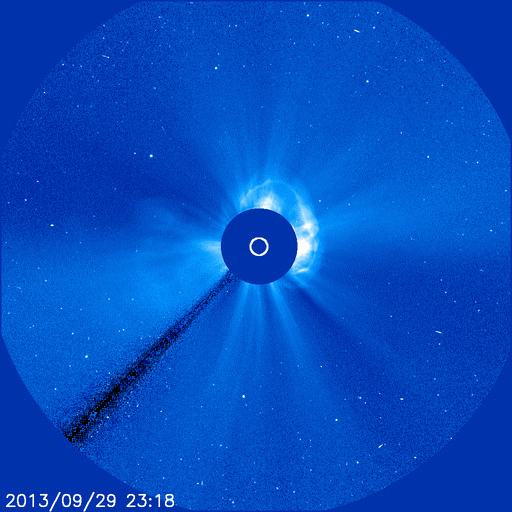 THE INSTIGATING CME: The CME that hit Earth's magnetic field today left the sun on Sept. 30th, propelled by an erupting magnetic filament. SOHO photographed the CME at the start of its journey, racing away from the sun at 2 million mph (900 km/s):
The CME was impressive, but the underlying explosion was even more so. One movie from NASA's Solar Dynamics Observatory shows the self-destructing filament in the context of the whole sun. Another movie zooms in for a closeup. It catches the filament ripping through the sun's atmosphere and leaving behind a beautiful "canyon of fire."
NOAA forecasters working through the government shutdown estimated an almost-even 45% chance of polar geomagnetic storms when the CME arrived. The CME justified those relatively high odds, sparking a G2-class geomagnetic storm around the poles. Geomagnetic storm alerts: text, voice.
Posted by Obi-Wan Kabuki at 12:57 AM 
Thanks to: http://americankabuki.blogspot.com