Stunning image shows ice-filled crater on Mars
Posted on Friday, 21 December, 2018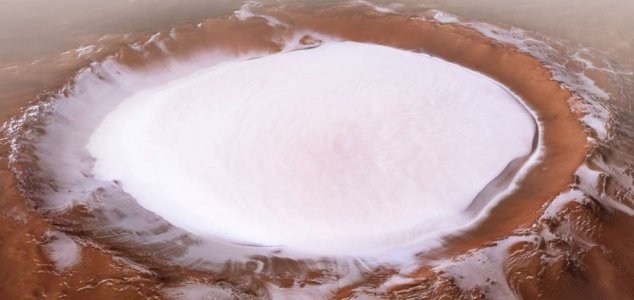 The crater looks like a patch of freshly fallen snow. Image Credit: CC BY-SA 3.0 IGO ESA/DLR/FU Berlin
This recently released photograph shows the 60km-wide Korolev Crater in Mars' north polar region.
Put together from images taken by the High Resolution Stereo Camera on the European Space Agency's Mars Express spacecraft, the spectacular scene shows water ice up to 2km thick.
The crater itself, which was formed by a massive impact millions of years ago, acts as a 'cold trap', producing a layer of cold air that sits directly above the ice and prevents it from melting.
The image above is comprised of five separate image strips that have been digitally combined.
The crater is named after Sergei Korolev who is considered to be the father of Soviet space technology. He worked on numerous missions including the iconic Sputnik satellites.
ESA has described the spectacle as a 'winter wonderland'.
Thanks to: https://www.unexplained-mysteries.com