Martian moons may have once formed rings
Posted on Wednesday, 3 June, 2020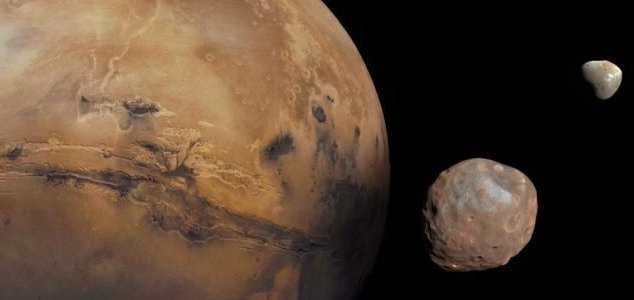 Were the moons of Mars once the rings of Mars ? Image Credit: NASA
An increasing body of evidence suggests that Mars may have once had its own spectacular ring system.
When it comes to planets with rings, the first thing most people think of is Saturn. As it happens however, the gas giant is not alone in this regard - there are several other bodies in our solar system with rings including Jupiter, Uranus and Neptune, as well as several minor planets and other objects.
A few years ago, scientists theorized that another planet - Mars - may have also once had rings.
Now it turns out that, not only is this highly likely to be true, but that the moons of Mars - Phobos and Deimos - may literally be the culmination of these rings coalescing into solid bodies.
While Phobos had been studied before with this in mind, a recent re-analysis of Deimos - and in particular its strange tilted orbit - has raised the possibility that the formation and loss of rings around Mars may have actually happened several times before.
Phobos, for instance, is slowly moving closer to Mars and will eventually be torn apart by its gravitational pull. When this happens, the debris could form a new ring system.
This ring would then, in turn, form a new moon and so the cycle would repeat.
"The fact that Deimos's orbit is not exactly in plane with Mars's equator was considered unimportant, and nobody cared to try to explain it," said SETI astronomer Matija Cuk. "But once we had a big new idea and we looked at it with new eyes, Deimos's orbital tilt revealed its big secret."
Source: Science Alert

https://www.unexplained-mysteries.com/news/337376/martian-moons-may-have-once-formed-rings
Thanks to: https://www.unexplained-mysteries.com