Senator sparks criticism with ET religion Tweet
Posted on Saturday, 25 July, 2020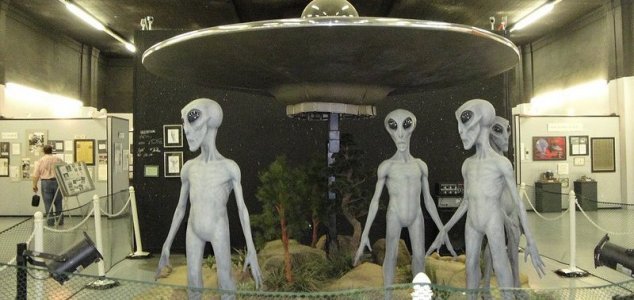 Would aliens really subscribe to the same religious beliefs as we do ? Image Credit: CC BY-SA 2.0 Jim Trottier
Texas State Rep. Jonathan Stickland angered many by suggesting that aliens would need to be Christian.
Commenting on yesterday's New York Times story about the Pentagon possessing materials from "off-world vehicles", Stickland headed to Twitter and wrote:
"IF aliens are real, salvation through Jesus Christ is the only way they enter Heaven."
His Tweet was met with considerable criticism, with users decidedly unimpressed with the assumption that an advanced extraterrestrial race from across the cosmos would adhere to the same religious beliefs and values as a subset of the human population here on Earth.
The question of what sort of religious beliefs aliens might have has been around for years - certainly it is plausible that intelligent beings from other worlds might have their own religions and belief systems shaped by factors specific to their circumstances. 
Some argue that an alien race capable of traveling the stars may have shunned all forms of religion entirely in favor of a philosophy based purely on science and perhaps even a higher understanding of the nature of the universe beyond that which we are currently able to perceive.
It is also worth pondering what might happen if we were to ever meet an alien race - would they try to impart their beliefs upon us ? Would religious leaders on Earth attempt to do the same to them ?
As things stand, we have no idea of the role religion might play on worlds beyond our own.
Jonathan Stickland
@RepStickland
IF aliens are real, salvation through Jesus Christ is the only way they enter Heaven. #txlege
8:35 AM · Jul 24, 2020
https://www.unexplained-mysteries.com/news/338399/senator-sparks-criticism-with-et-religion-tweet
Thanks to: https://www.unexplained-mysteries.com