LOL: "Lego" Gamer Fools White House Press Corps by Posing as Reporter and Getting Them to Ask Questions on "Her" Behalf
Date: April 13, 2021Author: Nwo Report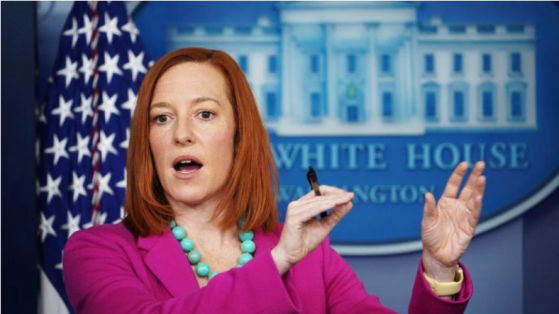 Source:
Evan James
Members of the White House press corps have been asking questions at press briefings on behalf of a reporter who doesn't actually exist.
"Kacey Montagu" is the fictitious name of a "Lego" gamer who was able to successfully masquerade as a
Daily Mail
reporter for weeks—due in no small part to COVID-19.
Montagu claimed "she" couldn't be at the press briefings because of COVID protocols, which provided a perfect excuse to have White House press corps members relay "her" questions to press secretary Jen Psaki.
Montagu was able to fool not just the White House press corps, but also White House officials.
Politico
reports that Montagu communicated "regularly" with "top White House reporters" and had "several exchanges with White House officials."
The fake
Daily Mail
reporter had two "real-life Twitter handles" that were followed by top White House officials and journalists. Montagu also claimed to be a member of the White House Correspondents Association and the editor of a fictional outlet called "White House News."
When
Politico
asked why "she" was posing as a reporter, Montagu replied in an email that "
I love journalism, and I think the Press Corps is doing a pretty bad job at the moment, so I decided I would ensure some transparency and ask some questions me and some friends wanted the answer to
."
The identity of Montagu is not known with certainty, but
Politico
writes that he or she is 18 years old, lives in the United Kingdom, studies law or political science, and is socially liberal but economically conservative. The individual behind the Montagu persona may also be a gamer on the ROBLOX platform in which users call themselves "Legos."
"
Within that platform is a role-playing group called nUSA, where people from across the world engage in a mock U.S. government exercise
,"
Politico
reports. "
At one point, Montagu had adopted the role of Secretary of State but resigned from that job after—as they recalled—'the [nUSA] President went to war with some U.K. and I thought it was a pretty bad idea!
'"
On April 8 Mediate became the first outlet to openly question Montagu's identity, and after that it didn't take long for Google and LinkedIn to remove Montagu's profile pages. The jig is now up, but Montagu was able to ask four questions through "her" White House press corps intermediaries. What a run.
https://nworeport.me/2021/04/13/lol-lego-gamer-fools-white-house-press-corps-by-posing-as-reporter-and-getting-them-to-ask-questions-on-her-behalf/
Thanks to: https://nworeport.me