Two German Footballers Collapse 'Suddenly & Unexpectedly' During the Same Match
Date: December 6, 2021Author: Nwo Report 
Source:
daniel_g
On Friday, two German footballers suddenly and unexpectedly collapsed on the pitch during the same match.
Reports indicate the shocking moment occurred after the final whistle in a contest between FC Carl Zeiss Jena and Berliner AK.
The two German footballers add to an unprecedented list of athletes to suddenly collapse on the playing surface in 2021.

Dr. James E. Olsson
@DrJamesOlsson
BREAKING - TWO German soccer players 'Suddenly & Unexpectedly' collapse during the SAME match.
FC Carl Zeiss Jena: Schrecksekunde nach Abpfiff gegen Berliner AK
Nach dem Heimsieg des FC Carl Zeiss Jena am Freitagabend sind zwei Spieler kollabiert.
otz.de
4:12 PM · Dec 5, 2021
hugotalks
@hugotalks1
Last Friday 2 players collapsed in the one game. TWO German soccer players 'Suddenly & Unexpectantly' collapse during the same match.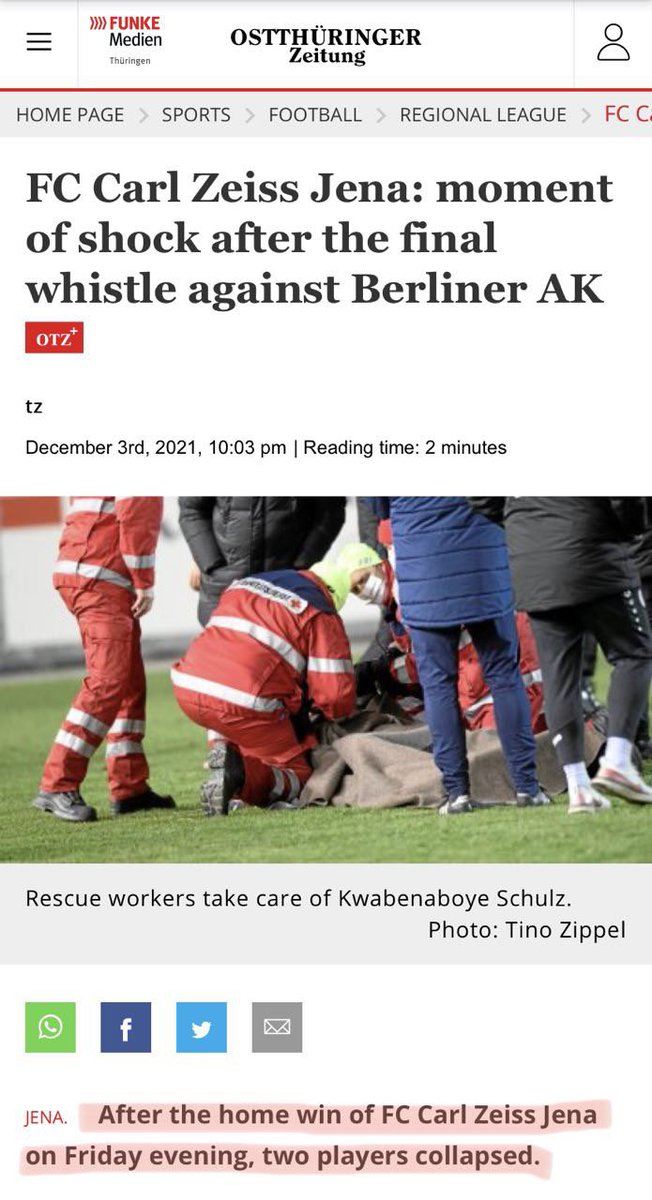 4:59 PM · Dec 5, 2021
MORE HERE: https://nworeport.me/2021/12/06/two-german-footballers-collapse-suddenly-unexpectedly-during-the-same-match/
Thanks to: https://nworeport.me