Anheuser-Busch Loses $6BN In Six Days After Trans Ad Campaign That Top Execs Never Approved
by Tyler Durden
Friday, Apr 14, 2023 - 05:15 AM
After reaching a three-year high of $66.73 per share, Bud Light parent company Anheuser Busch Inbev
lost more than $6 billion in market cap
since announcing its partnership with 26-year-old transgender 'influencer' Dylan Mulvaney
on April 2,
as bar owners and distributors report a sharp decline in Bud Light sales
over the past week.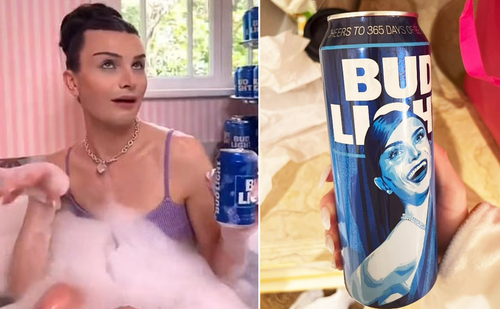 The company's market cap fell as low as $125.7 billion, down from $132.8 billion six days ago, a drop of more than five-percent.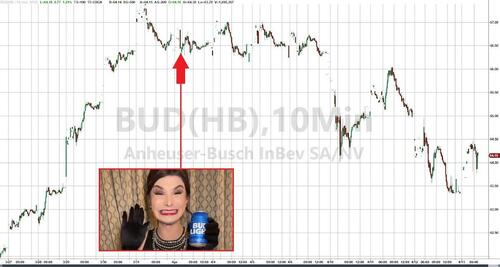 Meanwhile competitor Molson Coors (TAP) saw $350 million added to its market cap over the last week.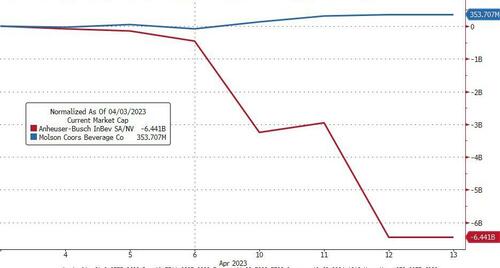 Bud Light's partnership with Mulvaney included
custom cans featuring his face and pro-LGBTQ language
to commemorate the biological male's 'being a woman' for over a year. The ad campaign kicked off with naked Mulvaney drinking Bud Light in a bathtub. 
And while Anheuser-Busch issued a statement in support of Mulvaney, saying it "works with hundreds of influencers across our brands as one of many ways to authentically connect with audiences across various demographics," the
Daily Wire
reports that
company executives had no idea about the ad campaign
.
"No one at the senior level" of the company was aware of Bud Light's polarizing partnership with Dylan Mulvaney, sources close to the situation claim. The company is also allegedly pausing its marketing efforts and scrambling to implement a more "robust" process for evaluating future influencer partnerships.
...
"No one at a senior level was aware this was happening," said one source, who was granted anonymity to discuss sensitive internal discussions. "Some low-level marketing staffer who helps manage the hundreds of influencer engagements they do must have thought it was no big deal. Obviously it was, and it's a shame because they have a well-earned reputation for just being America's beer — not a political company. It was a mistake."
A second source also claimed that a lower level employee had made the decision to include Mulvaney in the campaign, a move that appears to have cost the company $5 billion in market value. The backlash to the iconic American beer brand has been so intense that a Budweiser distributor in Missouri canceled an event with the company's famous Clydesdale horses because everything was "still sensitive" over the matter. -Daily Wire

This comes after the company's woke vice president of marketing
touted her mandate that that brand be more "inclusive."

Old Row
@OldRowOfficial
·
Follow
Alissa Heinerscheid, Bud Light's VP of Marketing, doubles down on her extreme woke strategy to promote the "declining" American beer brand to "young people", while smearing her former customers as "fratty and out of touch". How's that working out for you, lady? @budlight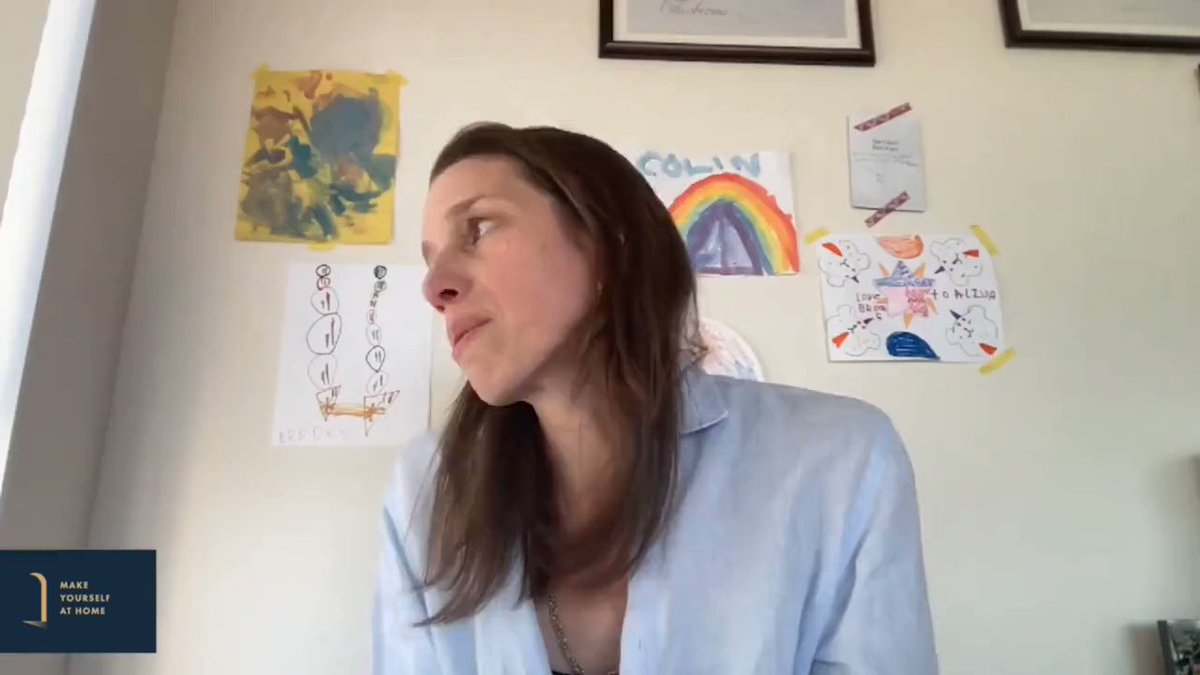 2:08 PM · Apr 9, 2023
As we noted on Wednesday,
bar owners and distributors have reported a sharp decline in Bud Light sales since the campaign launched.
According to John Ruch, country music singer and owner of the Redneck Riviera bar in Nashville, TN,
Bud Light used to be their most popular beer
.
"
The customers decide. Customers are king
," he told
Fox News
host Tucker Carlson on Monday. "I own a bar in downtown Nashville called Redneck Riviera. Our number-one selling beer up until a few days ago was what? Bud Light. We got cases and cases and cases of it sitting back there. But in the past several days, you're hard-pressed to find anyone ordering one. So as a business owner, I go, hey if you aren't ordering it, we got to put something else in here. At the end of the day, that's capitalism. That's how it works."
According to Rich,
fans are finding it "hard to stay loyal"
to now-woke brands, and are instead voting with their wallets.
"And there are tons of up-and-coming American brands that people are flooding to right now," he said.
In one video, a beer merchandiser said of the situation; "I've never seen such little sales as in the past few days...
I can't feed my family."
Meanwhile, Woke, Inc. loves Mulvaney - who's scored ads with Nike, Oil of Olay and other companies.
MORE HERE: https://www.zerohedge.com/political/anheuser-busch-loses-6bn-six-days-execs-never-signed-trans-ad-campaign?utm_source=&utm_medium=email&utm_campaign=1409