Florida Sends 800 Soldiers, 300 Law Enforcement Officers To Help Secure U.S. Border In Texas
Date: May 17, 2023Author: Nwo Report   
Posted BY:
DailyWire
Florida Governor Ron DeSantis announced on Tuesday that he is sending more than 1,100 assets to Texas to assist Governor Greg Abbott in combatting the illegal immigration crisis that President Joe Biden caused on the southern border with his policies.
The move comes after there were approximately 83,000 illegal border crossings last week amid the end of Title 42 — by far the highest number ever recorded in U.S. history.
"The impacts of Biden's Border Crisis are felt by communities across the nation, and the federal government's abdication of duty undermines the sovereignty of our country and the rule of law," DeSantis said in a statement. "At my direction, state agencies including law enforcement and the Florida National Guard are being deployed to Texas, with assets including personnel, boats and planes. While Biden ignores the crisis he created, Florida stands ready to help Texas respond to this crisis."
The resources that DeSantis is sending to Texas include 800 Florida National Guard soldiers, 101 Florida Highway Patrol troopers, 200 Florida Department of Law Enforcement officers, 20 Florida Fish and Wildlife Conservation Commission officers, 20 emergency management personnel, 17 available unmanned aerial vehicles, and support teams, 10 vessels, five fixed-wing aircraft with monitoring equipment and downlink capabilities with two aviation crew teams, and two mobile command vehicles with command teams.
"With respect to this border issue, we've gotten injunctions on them doing mass releases, and we're staying on them … because it's a really important issue to actually have sovereignty in our country and have the rule of law upheld," DeSantis said at a press conference. "We've also, as a state, from really the beginning of the Biden administration, been leaning in on the issue, including helping Texas in the past, and we've offered a number of assets, boats, planes, and personnel to help now."
DeSantis warned, despite claims from controversial Homeland Security Secretary Alejandro Mayorkas that illegal border crossings have plummeted in recent days, what's happening at the southern border "is going to be really, really bad — potentially very shortly."
DeSantis, who is expected to announce a presidential campaign in the coming days, has said he wants to finish President Trump's border wall.
While Trump's administration did build 450 miles of border wall, the overwhelming majority of that was replacing old barriers. Only 85 miles of a new border wall — 52 miles of new primary wall and 33 miles of new secondary wall — was built in areas that had no preexisting border barriers, according to a press release that the Trump campaign touted from U.S. Customs and Border Protection and the U.S. Army Corps of Engineers.

Team Trump (Text TRUMP to 88022)
@TeamTrump
·
Follow
FACT CHECK: President Trump built over 450 MILES of new border wall. #CNNTownHall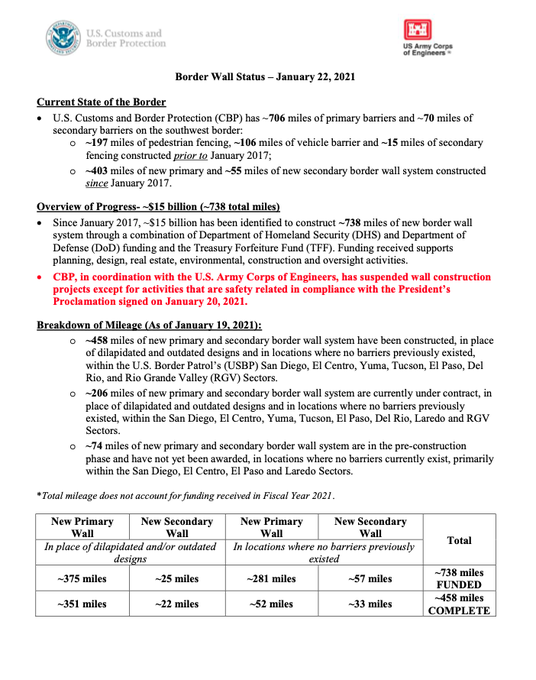 7:59 PM · May 10, 2023
"The border should be shut down. I mean, this is ridiculous what's going on. You shut it down. You do need to construct a wall," DeSantis said, adding that he would be willing to send workers from Florida to assist with building the wall. "We'll get it done."
"We also need to just have a policy: If you come across the border illegally, you get sent back. You don't get a notice to appear for a trial in two years. What kind of a deterrent is that? It doesn't work," the governor continued. "We also have to come to terms with all the amount of fentanyl that's coming into our country because of this border. And who's doing it, it's these Mexican drug cartels. They need to be held accountable. We can't just let our people die."
Full StoryTHANKS TO: https://nworeport.me/florida-sends-800-soldiers-300-law-enforcement-officers-to-help-secure-u-s-border-in-texas/