Sen. Rand Paul Blocking Biden Nominees Until COVID-19 Documents Released
Posted on June 3, 2023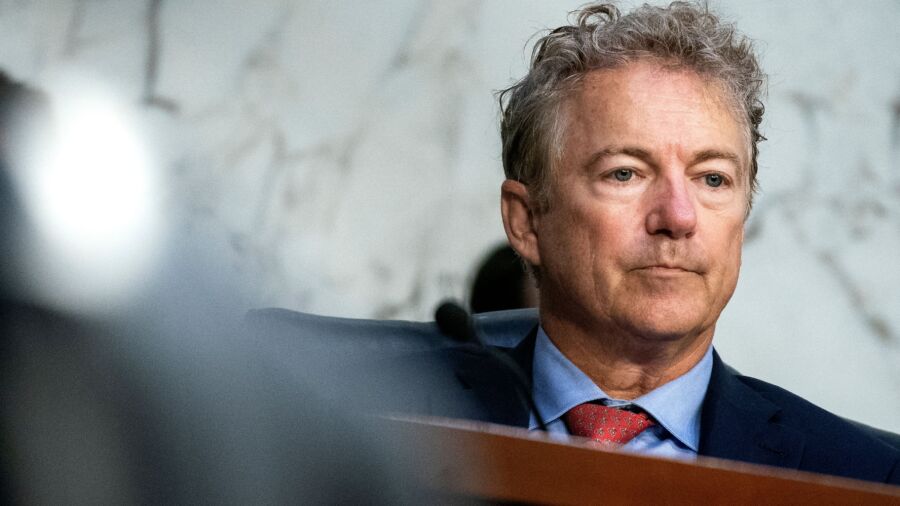 Sen. Rand Paul (R-Ky.) listens during a Senate hearing on Capitol Hill in Washington on Sept. 14, 2022. (Stefani Reynolds/AFP via Getty Images)
Sen. Rand Paul (R-Ky.) is seeking the release of U.S. government documents that may show links between risky U.S.-funded research projects and the origins of COVID-19.
Paul has been requesting these documents for years, following concerns that the SARS-CoV-2 virus could have been created through "gain of function" experiments.
"I've been trying to get COVID records for three years and my concern with the COVID Records is that the U.S. government funded a lot of research that was risky research called 'gain of function' research," Paul told NTD News on Thursday. "Some of that research was funded in China, some of it's been funded in our country. And I think that we need to find out about all of that research and it needs to come to the public, it needs to be reviewed."
As part of his effort to compel the current administration to release any records relating to the origins of COVID-19, Paul is now vowing to block President Joe Biden's nominees.
In a Thursday morning interview on Fox Business's "Mornings with Maria," Paul said the Biden administration has refused to turn over the records for going on three years.
"I'm in the process of blocking nominations, of blocking legislation, if they will not help me to get records. And so this is going on in two major committees that I'm on: the Foreign Relations Committee as well as the Homeland Security," he said. "I'm telling you, I'm not letting anything pass unanimously, I'm blocking everything until you finally turn over some of these records on COVID."
Signs of COVID-19 Lab Origin
In his comments with NTD News, Paul noted the spike protein of the SARS-CoV-2 virus had a rare feature, known as a furin cleavage site, which has been attributed to COVID-19's high transmissibility in humans.
Paul also noted a 2018 research proposal, submitted to the U.S. Defense Advanced Research Projects Agency (DARPA), proposing to insert a furin cleavage into a bat coronavirus. The Intercept first reported on this research proposal in September of 2021. The proposal was reportedly submitted by the EcoHealth Alliance, a U.S. organization with past ties to the Wuhan Institute of Virology (WIV) in Wuhan, China, where the first COVID-19 cases were reported.
DARPA rejected the EcoHealth Alliance's proposed experiment, but Paul questioned the coincidence of the proposal along with the fact that the SARS-CoV-2 virus is the first SARS-related betacoronaviruses to have this furin cleavage.
Some proponents of the theory that COVID-19 originated from a lab leak see the furin cleavage as evidence supporting the claim.
"When we got COVID-19, we discovered it's the first coronavirus of its kind to have a furin cleavage site," Paul said. "They were asking us for money to do [the furin cleavage experiment]. [The COVID-19 outbreak] happened in the same city blocks away from the same lab. Sounds like a lot of coincidences here. So we want a thorough investigation of all of the research that we've been funding."
Some scientists have argued that the furin cleavage site seen on SARS-CoV-2 could have occurred naturally and its presence alone is not evidence of human experimentation.
US Research Dollars Flowed To China
Sen. Joni Ernst (R-Iowa) published a report on Wednesday, with the support of auditors the Government Accountability Office (GAO) and the Congressional Research Service, as well as two nonprofit Washington watchdogs, Open The Books (OTB) and the White Coat Waste Project (WCWP). Ernst's report indicated Chinese organizations received $490 million in U.S. government research grants and contracts since 2017.
According to Ernst's report, most of the funding that flowed to Chinese entities, including the WIV, came through subcontracts and subgrants. She said federal officials failed to rigorously track the sub-awards made by initial grant recipients.
Paul has alleged some of the Chinese entities that eventually received U.S. funding included Chinese military research organizations.
"One thing we discovered and has not been reported, I think, very extensively, is that [National Institutes of Health] money is going to American universities and then being subcontracted to military research in China," he said, referring to China's Academy of Military Medical Sciences (AMMS). "So it's military research."
Republicans on the House Intelligence Committee made similar claims in a December report (pdf). The Republican report stated, "public reporting has claimed grant money from [Department of Health and Human Services] components flowed to [AMMS]."
[…]
Via https://www.ntd.com/sen-rand-paul-threatens-to-stall-biden-nominees-over-covid-19-records_923032.html
THANKS TO: https://stuartbramhall.wordpress.com/