More Terrible News for Bud Light As It Tries to Turn Things Around
Spencer Brown  |   June 14, 2023 11:15 AM  
AP Photo/Jacquelyn Martin, File
It's been a rough few months for Anheuser-Busch and its Bud Light product line thanks to an entirely unforced error on the part of its leaders who thought it would be a good idea to celebrate the one year anniversary of biological male Dylan Mulvaney deciding to be a "girl." 
As a result of its little Mulvaney stunt, Bud Light has lost its place at the top of U.S. sales charts.
The resulting boycott of Bud Light and other Anheuser-Busch brands was swift, severe, and hit its mark. Bud Light was being nearly given away by retailers who couldn't move the product as sales cratered and the company sent executives on leave to try and show they were reversing direction. 
Any attempts to coax previously loyal customers to again buy Bud Light have, so far at least, not been very effective. Instead, Bud Light watched as its top-seller status was usurped in May by Modelo Especial — a beer distributed in the U.S. by Constellation Brands which "acquired the brand in 2013 from Anheuser-Busch after U.S. regulators required Anheuser-Busch to sell U.S. rights to Modelo Especial and Corona to gain clearance for its acquisition of Mexican brewer Grupo Modelo."

Charlie Bilello
@charliebilello
·
Follow
Modelo Especial is now the top-selling beer in America with an 8.4% share, up from 7.5% in January. Bud Light has moved down to 7.3% from 10.3% in January, relinquishing the top spot for the first time since 2001.
https://wsj.com/articles/bud-light-modelo-best-selling-beer-6a4d6b27?mod=hp_lead_pos6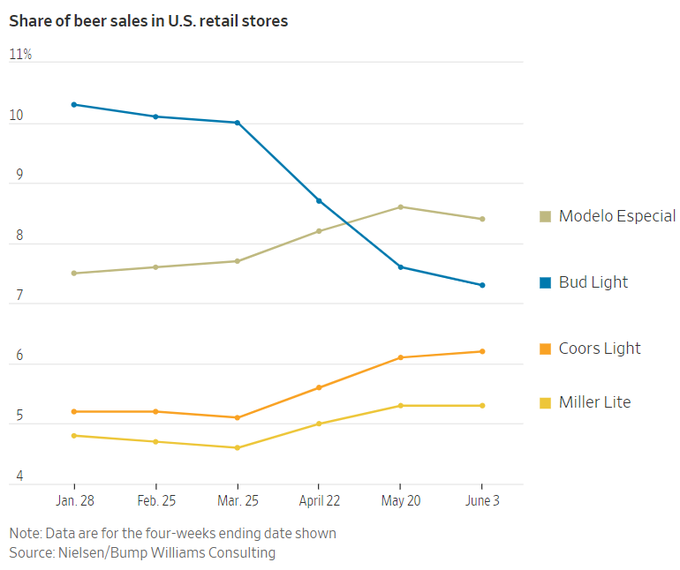 7:51 AM · Jun 14, 2023
Underscoring the "lasting damage" Bud Light did to its brand image by diving headfirst into woke gender politics, The Wall Street Journal broke down the numbers:
Modelo represented 8.4% of U.S. retail-store beer sales in the four weeks ended June 3, compared with 7.3% for Bud Light, according to an analysis of Nielsen data by consulting firm Bump Williams...
Bud Light's sales were down about 24% in the week ended June 3 compared with the same week last year, according to Bump Williams. Other Anheuser-Busch brands also have taken a hit, including Budweiser and Michelob Ultra.
The continued decline through May is an ominous sign for Bud Light distributors during what they say is a make-or-break stretch between Memorial Day and the Fourth of July. Most Anheuser-Busch distributors are independently owned, many of them by families who have sold Budweiser for generations. Some Anheuser-Busch distributors said they are now contemplating layoffs. Others who also carry Constellation brands said their losses have been partially offset by Modelo's surge.
 "Our year is screwed," said an Anheuser-Busch distributor who doesn't carry Modelo.
Bud Light's total sales over the first five months of the year are still higher than any other beer, the company said. Anheuser-Busch also remains the largest brewer in the country. But some Bud Light distributors said Tuesday that they believe Bud Light may be permanently dethroned. 

Bud Light first overtook Budweiser as America's top-selling beer in 2001 according to WSJ, and executives are still scrambling to figure out how to turn things around as its reign ends in controversy. Bud Light ads have attempted to return to the brand's mainstay themes such as "football and country music" and is trying to help its distributors by pledging to "buy back unsold cases of beer that have gone past their expiration date."
THANKS TO: https://townhall.com/tipsheet/spencerbrown/2023/06/14/bud-light-loses-americas-favorite-beer-status-n2624484