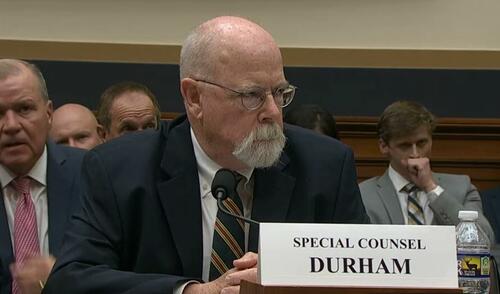 Durham Goes Off On FBI, CIA, Schiff During Wednesday Testimony
by Tyler Durden
Thursday, Jun 22, 2023
Update (1351ET)
: More bombshells from Durham on Wednesday, where he told the House Judiciary Committee that the CIA knew that Hillary Clinton approved a plan to smear then-candidate Donald Trump with Russia allegations in order to distract from her classified email scandal, and that the FBI did not "sufficiently scrutinize information it received," nor "apply the same standards to allegations it received about the Clinton and Trump campaigns."
"The FBI was too willing to accept and use politically funded and uncorroborated opposition research, such as the Steele dossier," said Durham, adding "
The FBI relied on the dossier and FISA applications, knowing there was likely material originating from a political campaign or political opponent
."
Durham said that it's "going to take time to rebuild the public's confidence in the institution," referring to the FBI following its mishandling of the Russia collusion probe.
Under questioning from House Judiciary Committee Chairman Jim Jordan, Durham said former FBI Director Jim Comey withheld a referral memorandum from the agents working the Crossfire Hurricane case.
The memo contained intelligence from a high-level briefing with Director of the Central Intelligence Agency John Brennan related to then-Democratic presidential candidate Hillary Clinton's attempts to tie Trump to Russia.
"They kept key intelligence from the investigators. This is how bad this investigation was but here's the scary part: I don't think anything has changed," Jordan said. -Just the News


Following the May 12 release of Special Counsel John Durham's long-awaited "Report on Matters Related to Intelligence Activities and Investigations Arising Out of the 2016 Presidential Campaigns," which found that the FBI's original investigation of Trump was unwarranted,
Durham sat for testimony on Wednesday which was originally slated to be closed-door, only to be opened up for the public to see
.
MORE HERE: https://www.zerohedge.com/markets/our-findings-were-sobering-john-durham-gives-fiery-testimony-fbi-abuses-schools-schiff?utm_source=&utm_medium=email&utm_campaign=1591