Aleister Crowley's house: 'discoveries' teased
Posted on Monday, 13 April, 2020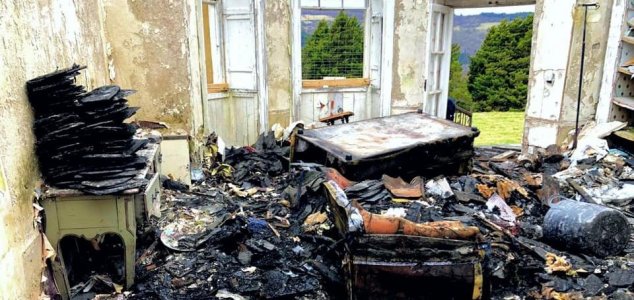 The Oratory room before it was cleared. Image Credit: Facebook / The Boleskine House Foundation
Restoration works at the fire-ravaged Loch Ness home of the infamous occultist have recently began in earnest.
Situated near Foyers at the south-east side of Loch Ness, Scotland, Boleskine House was built in the 18th century in an area with a long history of peculiar happenings.
Aleister Crowley - a man who was once regarded as 'the wickedest man in the world' - lived at the house between 1899 and 1933 and was said to have used it to conduct black magic rituals.
The building, which was badly damaged by two fires, was recently purchased by a group of investors who set up the Boleskine House Foundation in the hope of restoring it to its former glory.
Now according to a recent update on the group's Facebook page, restoration efforts are now well underway with at least one of the building's rooms cleared of debris.
Images posted up show the famous Oratory room which was cleared of some 16 tons of rubble. 
Perhaps most interesting of all however was what the group found there during clear-up.
"Keep watching our social media platforms this week as we announce some of the discoveries found in the rubble," the group wrote on Facebook.
Could artefacts from Crowley's activities at the house have survived the blaze ?
Only time will tell what secrets may lie within.
The clearance of the famous "Oratory room" is now complete. Look at the difference! Keep watching our social media platforms this week as we announce some of the discoveries found in the rubble #RebuildBoleskine
https://www.unexplained-mysteries.com/news/336306/aleister-crowleys-house-discoveries-teased
Thanks to: https://www.unexplained-mysteries.com