Box from Aleister Crowley's house is opened
Posted on Friday, 13 November, 2020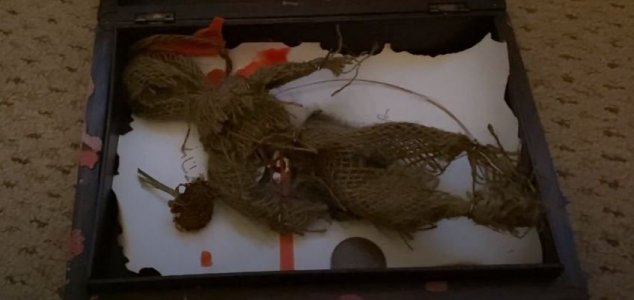 Who buried the box and what do the contents mean ? Image Credit: YouTube / The Tin Biscuit PodCast
A mysterious box allegedly found beneath the floor of Boleskine House has been opened on camera.
Situated near Foyers at the south-east side of Loch Ness, Scotland, Boleskine House was built in the 18th century in an area with a long history of peculiar happenings.
Aleister Crowley - a man who was once regarded as 'the wickedest man in the world' - lived at the house between 1899 and 1933 and was said to have used it to conduct black magic rituals.
The building, which was badly damaged by two fires, was recently purchased by a group of investors who set up the Boleskine House Foundation in the hope of restoring it to its former glory.
More recently, Rik Spencer - a 41-year-old from Grimsby - won an auction for a mysterious wooden box that was allegedly unearthed beneath the floorboards of the house after the fire in 2015.
Having surrounded the box with a circle of salt due to its black magic connections, Spencer gingerly cracked open the lid to reveal a number of items including a doll, some coins and a pencil sketch.
According to Spencer, the box could be what is known as a dybbuk box - which is a wine box haunted by a 'dybbuk' (a malicious, restless spirit) that can haunt (and even possess) the living.
He is now appealing for anyone who knows something about the box or its owner to come forward.
You can view the video of the box being opened below.
https://youtu.be/CKHnwGgXLk8
https://www.unexplained-mysteries.com/news/340844/box-from-aleister-crowleys-house-is-opened
Thanks to: https://www.unexplained-mysteries.com