Astronauts rehearse for Crew Dragon flight
Posted on Sunday, 24 May, 2020 |

 2 comments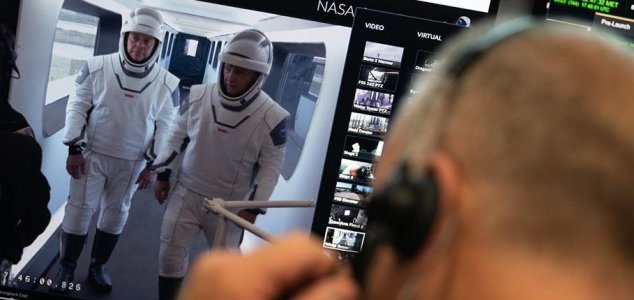 Hurley and Behnken suited up for the rehearsal. Image Credit: NASA
Doug Hurley and Bob Behnken will be blasting off to the ISS aboard a Crew Dragon spacecraft on Wednesday.
Ever since the Space Shuttle Atlantis touched down for the final time on July 21st, 2011, NASA has had to rely on the Russian space agency's Soyuz spacecraft to carry astronauts up to the ISS.
This week however that will all be set to change when NASA astronauts Doug Hurley and Bob Behnken blast off to the International Space Station aboard a Crew Dragon spacecraft.
It will be the first time SpaceX has ever launched humans into space, as well as the first time that astronauts have lifted off from US soil in 9 years.
If successful, the launch will also mark the beginning of a whole new era of space exploration in which major state-backed space projects give way to commercially viable private space endeavours.
Today's rehearsal saw Hurley and Behnken don their space suits and venture into the spacecraft for a trial run in preparation for Wednesday's historic launch.
If all goes well, the spacecraft, which will be perched atop a Falon 9 rocket, will soar into the heavens over Kennedy Space Center in Florida at approximately 16:33 EDT (21:33 BST).
Fingers crossed that the weather will play ball when the time comes.
https://www.unexplained-mysteries.com/news/337211/astronauts-rehearse-for-crew-dragon-flight
Thanks to: https://www.unexplained-mysteries.com