Giant radio telescope sets date for ET hunt
Posted on Tuesday, 2 June, 2020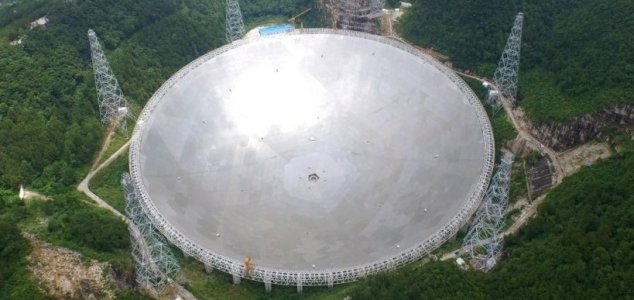 FAST is currently in the process of being upgraded. Image Credit: NAO / FAST
China has announced when its 500-meter FAST telescope will begin searching for intelligent alien life.
Situated in southwest China's Guizhou Province, the 500m-wide Aperture Spherical Telescope (FAST) cost $180 million to build and is around the size of 30 football pitches.
The enormous telescope is almost twice as large as the previous record holder - Puerto Rico's Arecibo Observatory - and is ten times more sensitive than Germany's Effelsberg telescope.
Its scientific goals will include studying pulsars, detecting interstellar molecules, conducting a large scale neutral hydrogen survey and looking for evidence of extraterrestrial communications.
Given that FAST is already tipped to be three times as sensitive as the Arecibo observatory in Puerto Rico, it should be very interesting indeed to see what, if anything, it manages to pick up.
Now according to state media outlet
Science and Technology Daily
, China's hunt for signs of extraterrestrial intelligence is set to begin this September.
Chief scientist Zhang Tongjie has stated that there are some "interesting narrowband candidate ET signals", however he has also stressed that it is unlikely that any of them are alien in origin.
That said, if there are any signals out there, FAST will certainly be in with a chance of picking them up.
Source: Engadget

https://www.unexplained-mysteries.com/news/337355/giant-radio-telescope-sets-date-for-et-hunt
Thanks to: https://www.unexplained-mysteries.com