Hollywood Celebs Are (Still) Going Nude to Get Out the Vote
 j   Uncategorized   October 25, 2020  1 Minute
I've heard of hookers giving "blow jobs for world peace", but "titties for Biden"? Isn't there supposed to be something about their cancel culture that would preclude this behavior? Oh, it's OK if it's the demonrats.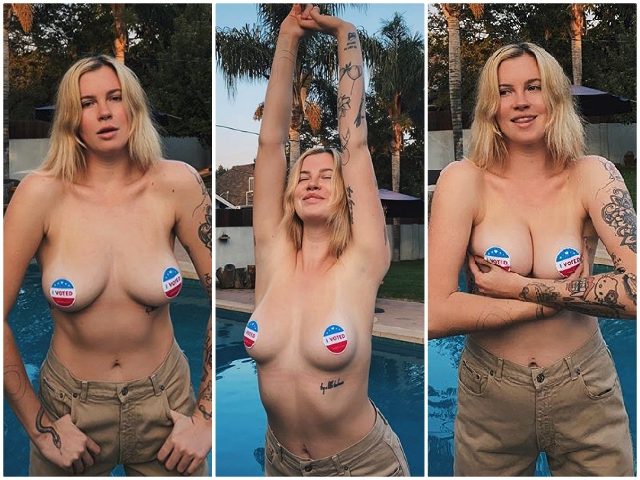 David Ng 23 Oct 2020
While millions of Americans grapple with the serious issues facing this country ahead of Election Day, more Hollywood celebrities have decided that their contribution to civic engagement is taking off their clothes on social media to encourage voting.
Stars including Ireland Baldwin and Oscar-winner Jared Leto are going nude to push voter participation.  Baldwin, the daughter of Alec Baldwin and Kim Basinger, posted topless photos of herself on Wednesday, wearing only "I Voted" stickers as pasties. "Voting is cool and so are disproportionate boobs," the model posted on Instagram.
Watch below:

https://youtu.be/SXUTpf_nweg
They are among the latest Hollywood stars to bare their skin online in an effort to boost voter turnout this election. Earlier this month, celebrities including Chris Rock, Tiffany Haddish, Amy Schumer, Josh Gad, and Sarah Silverman stripped for an election ballot explainer video warning against "naked ballots" in the upcoming election.
Actor Jared Leto also flaunted his torso on Instagram and Twitter. "Happy hump day P.S. Don't forget to vote," the Thirty Seconds to Mars frontman posted.
Last month, Emmy-winning
This Is Us
actor Sterling K. Brown took his shirt off on Twitter to promote voter participation.
Follow David Ng on Twitter @HeyItsDavidNg. Have a tip? Contact me at dng@breitbart.com

https://jonsnewplace.wordpress.com/2020/10/25/hollywood-celebs-are-still-going-nude-to-get-out-the-vote/
Thanks to: https://jonsnewplace.wordpress.com