'Loch Ness Monster' captured on drone footage
Posted on Friday, 24 September, 2021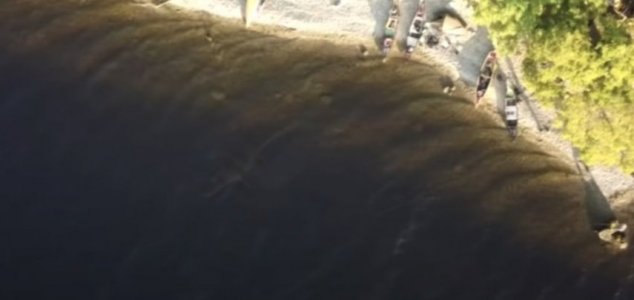 Could this be the Loch Ness Monster ? Image Credit: YouTube / Richard Outdoors
A canoeist who had been visiting Scotland's famous loch recently filmed something unusual near the shoreline.
The footage, which shows a distinct Nessie-like shape moving beneath the water, was captured on drone camera by 54-year-old Richard Mavor who had been taking part in the Great Glen Canoe Challenge to raise money for Alzheimer's research earlier this month.
As is common with many videos of unexplained phenomena, Mavor did not notice anything unusual at the time of filming but only spotted the anomalous extra when he reviewed his footage afterwards.
"I couldn't believe it," he told
The Daily Record
.
"I had to rewind the footage several times and have watched it several times since. I don't know what it is but it certainly has the same shape as previous sightings of Nessie."
"There was no driftwood or anything like that so who knows."
The footage itself is actually quite impressive and clearly shows something in the water, however it remains unclear exactly what that something is.
Some social media users have suggested that, despite Mavor's assurances to the contrary, the video does show driftwood emerging from beneath the water's surface and floating towards the shore.
It has also been suggested that the 'creature' could be a hoax created using CGI.
You can check out the clip for yourself below (skip to 3:52 to see the Nessie sighting).
https://youtu.be/k5t48qGWjE0
https://www.unexplained-mysteries.com/news/350862/loch-ness-monster-captured-on-drone-footage
Thanks to: https://www.unexplained-mysteries.com