More Than 82 Million Doses of COVID-19 Shots Discarded in U.S. Due to Low Demand
by Rishma Parpia
Published July 4, 2022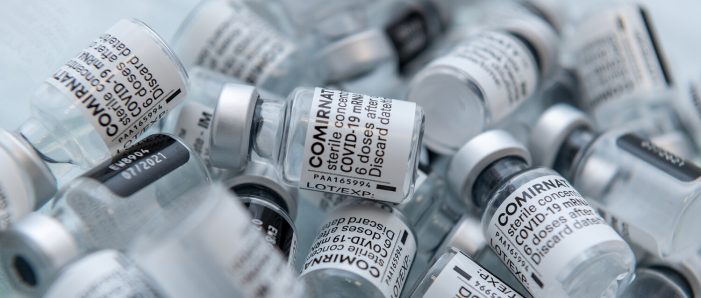 The U.S. Centers for Control and Disease Prevention (CDC) said that pharmacies, state health authorities and federal agencies in the United States discarded 82.1 million doses of COVID-19 shots between December 2020 and May 2022. The discarded doses equate to over 11 percent of the COVID vaccine doses the U.S. government distributed across the country.
1
Sheela Shenoi, MD, MPH, an infectious disease expert at the Yale School of Medicine said:
It's a tremendous loss to pandemic control, especially in the context of millions of people around the world who haven't even been able to get a first dose.2
Oklahoma and Alaska Discarded the Most COVID Shot Doses
The two states that discarded the most doses of COVID shots were Oklahoma and Alaska. Alaska discarded 27 percent of the one million doses received and Oklahoma discarded 28 percent of almost four million doses it received.
3
CVS and Walmart were responsible for discarding more than 25 percent of COVID shot doses. Health Mart, DaVita, Rite Aid, Publix and Costco discarded fewer doses overall, but still threw away a quarter of the doses they received.
4
Low Demand and Multi-Dose Vials Blamed for Wastage of Doses
Many doses of COVID shots have been discarded because their shelf life expired or because they were compromised due to broken freezers and power outage issues.
5
However, the CDC has stated that one of the reasons that many COVID vaccine doses have had to be discarded is because, unlike most other vaccines in the U.S., the COVID shots come in multi-dose vials, which means all the doses must be used within hours once the vials are opened or discarded if unused.
6
A CDC spokesperson said:
It's important to note that as the rate of vaccine administration slows, the likelihood of leaving unused doses in a vial may increase, even when providers continue to follow best practices to use every dose possible.7
Although the overall loss of COVID shot doses is acceptable under World Health Organization (WHO) guidelines, public health professionals have expressed concerns regarding the waste since many vaccinated Americans have yet to get a booster shot.
8
Public health professionals are saying that it is becoming increasingly challenging to get people vaccinated. The demand for COVID shots in the U.S. has decreased, which is another reason contributing to wastage of so many doses.
9
Ravi Anupindi, PhD, a professor of operations research and management at the University of Michigan who has studied vaccination campaigns, stated:
The demand has plateaued or is coming down, and that leads to open-vial wastage, especially with multi-dose vials. It's a demand problem.10
Cost Benefit Analysis of Multi-Dose Vaccine Vials Versus Single Dose Vials
A February 2022 article published in the medical literature by public health researchers in India pointed out that although multi-dose vaccine vials are associated with lower packaging and storage costs for manufacturers, "the overall economic advantage of using multi-dose vials is contingent on the reduction of the extent of vaccine wastage associated with their use."
11
They also cited the potential "risk of contamination particularly from human error" that is associated with administering vaccine from multi-dose vials containing from two to 20 doses, which requires a "higher degree of technical proficiency," than administration of vaccine from single dose vials that cannot inadvertently transmit disease.
The authors conclude that:
The overall economic advantage of MDVs (multi-dose vials) is contingent on the reduction of vaccine wastage associated with their use. Robust data collection for monitoring vaccine wastage rates and AEFIs (Adverse Events Following Immunization) is needed to understand the extent of economic benefit and risks involved with MDV use.
---
If you would like to receive an e-mail notice of the most recent articles published in The Vaccine Reaction each week, click here.
Click here to view References:
  Adverse Events Following Immunization, AEFIs, Alaska, CDC, Centers for Disease Control and Prevention, Costco, COVID-19, CVS, DaVita, Health Mart, MDVs, multi-dose vials, National Vaccine Information Center, NVIC, Oklahoma, Public, Ravi Anupindi, Rishma Parpia, Rite Aid, Sheela Shenoi, The Vaccine Reaction, University of Michigan, Walmart, WHO, World Health Organization, Yale School of Medicine
One Response to "More Than 82 Million Doses of COVID-19 Shots Discarded in U.S. Due to Low Demand"
https://thevaccinereaction.org/2022/07/more-than-82-million-doses-of-covid-19-shots-discarded-in-u-s-due-to-low-demand/
Thanks to: https://thevaccinereaction.org