Teacher Speaks Out: "I Know 2 Kids Who Died Suddenly in the Last 3 Days"
"KIDS DON'T JUST GET MYOCARDITIS AND HAVE HEART ATTACKS AND DIE!!!!"
CMMK @CmkMk7
I know 2 kids who died suddenly in the last 3 days. 7 year old and 10 year old girl .. both no underlying health conditions. I'm a teacher of 12 years. I've never ever seen this #StoptheShots
5:26 AM ∙ Dec 1, 2022
---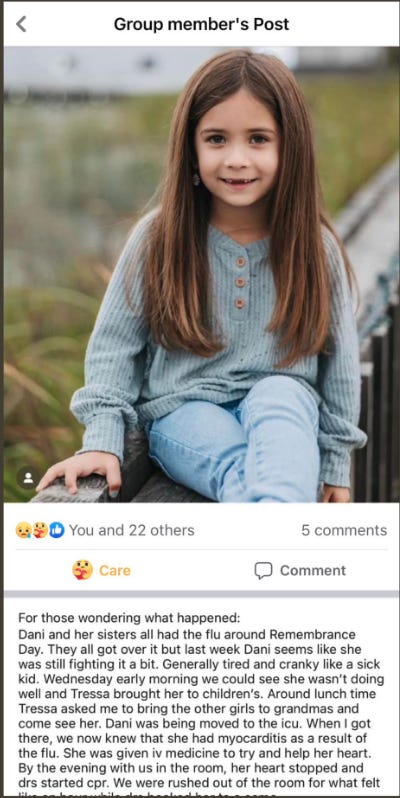 I hope more teachers will break the silence.Children all over the world have been dying "suddenly and unexpectedly" since the mRNA bioweapon rollout.

Exposing The Darkness
Dramatic Rise in Children's Funerals: Small Coffins Ordered in Bulk. Funeral Directors Told to Keep Quiet
Exposing The Darkness is a reader-supported publication. To support my work, please consider becoming a paid subscriber. According to the testimonies of funeral directors who wish to remain anonymous, many children are dying within months after being injected with the mRNA jabs…
Read more
5 months ago · 133 likes · 30 comments · Lioness of Judah Ministry
They are coming for you and your children. It is happening again. There's ample evidence emerging of long-term, patient planning -
Dr. Michael Yeadon

Exposing The Darkness
Dr. Michael Yeadon: The Most Important Single Message I've Ever Written
Exposing The Darkness is a reader-supported publication. To support my work, please consider becoming a paid subscriber. One-time or recurring donations can be made through Ko-Fi…
Read more
THANKS TO: https://lionessofjudah.substack.com/p/teacher-speaks-out-i-know-2-kids?utm_source=post-email-title&publication_id=581065&post_id=88402154&isFreemail=true&utm_medium=email