Giant Digital Billboard Outside Pfizer HQ Shows Director's 'Mutated Virus' Comments on Repeat
Date: January 31, 2023Author: Nwo Report
The truck features messages reading, '#DirectedEvolution,' while playing footage of James O'Keefe's confrontation with Pfizer exec Jordon Trishton Walker.
Posted BY:
Adan Salazar
Political watchdog group Project Veritas parked a van with giant digital billboards outside Pfizer headquarters in New York displaying footage of a Pfizer exec divulging the company's shady virus gain-of-function experimentation.
Footage Tuesday from outside Pfizer World Headquarters in Manhattan, New York, shows a mobile billboard truck stationed outside the building.
The truck displays feature messages reading, "#DirectedEvolution," while playing footage of Veritas founder James O'Keefe viral confrontation with Pfizer Director of Research and Development for Strategic Operations and mRNA Scientific Planning Jordon Trishton Walker.

Project Veritas
@Project_Veritas
·
Follow
We rented an LED truck and parked it outside of @pfizer world headquarters in Manhattan today Stay tuned…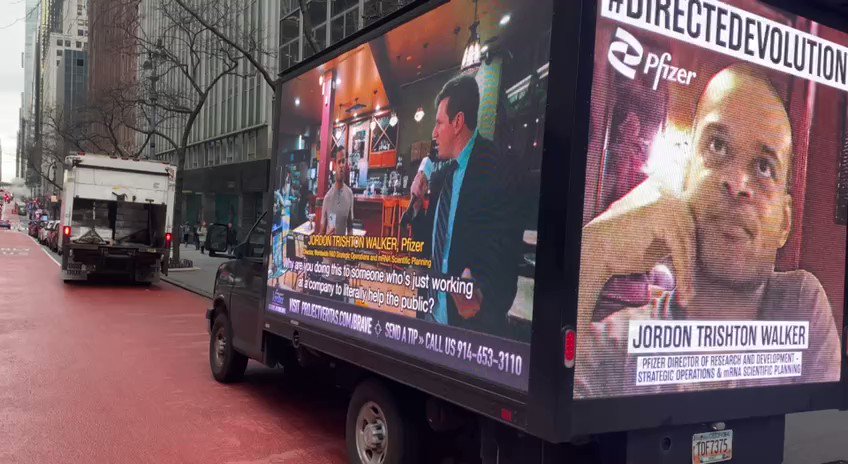 9:41 AM · Jan 31, 2023
143.2K
WATCH HERE: https://twitter.com/slave_2_liberty/status/1620479398758735872?ref_src=twsrc%5Etfw%7Ctwcamp%5Etweetembed%7Ctwterm%5E1620479398758735872%7Ctwgr%5Ea8ede82e392fcff0caafe4dd942091fe90f95546%7Ctwcon%5Es1_&ref_url=https%3A%2F%2Fnworeport.me%2F2023%2F01%2F31%2Fgiant-digital-billboard-outside-pfizer-hq-shows-directors-mutated-virus-comments-on-repeat%2F
The billboard stunt comes on the heels of a bombshell report showing Walker speaking to an undercover Veritas journalist admitting Pfizer was experimenting with mutating viruses in order to plan out future vaccines.
"One of the things we're exploring is like, why don't we just mutate it [COVID] ourselves so we could create — preemptively develop new vaccines, right? So, we have to do that. If we're gonna do that though, there's a risk of like, as you could imagine — no one wants to be having a pharma company mutating f**king viruses," Walker told an undercover Veritas journalist.
CONTINUE HERE: https://nworeport.me/2023/01/31/giant-digital-billboard-outside-pfizer-hq-shows-directors-mutated-virus-comments-on-repeat/