Report: Trump's Own Impeachment Lawyer Called Him A 'Fu**ing Crook'
By Becky Noble
February 10, 2021
As Donald Trump's impeachment legal team began arguments in the second day of the trial, The Daily Mail reported that Trump lawyer Michael Van der Veen had once called him "a fu**ing crook."
According to the report, Van der Veen's comments happened while working on a 2019 case in which a student was accused of hacking IRS databases in order to obtain Donald Trump's tax records.
The current defense team was assembled in a hurry. David Schoen and former Montgomery County Pennsylvania District Attorney Bruce Castor came on board just last Sunday.
Van der Veen was also brought in last week to assist.

CNN Breaking News
@cnnbrk
Trump's legal team says Democrats are engaging in "political theater" and argues the impeachment trial is unconstitutional since he's no longer President
Trump lawyers argue former President did not incite riots by telling supporters to 'fight like hell'
Former President Donald Trump's legal team accused House Democrats of engaging in "political theater" and argued that the upcoming Senate impeachment trial is unconstitutional because Trump is no...
cnn.com
10:28 AM · Feb 8, 2021
A Curious Addition
Van der Veen's former client stated that he was not sure if the 'crook' comments were an attempt to make him more comfortable or if they were the genuine beliefs of Van der Veen.
Van der Veen has denied the allegation.
Jeremy Roebuck
@jeremyrroebuck
NEW: Trump lawyer Michael van der Veen denies previously calling the president a "f---g crook," a day after a former client recalled him making that statement. The client tells my colleague @anna_orso today he stands by his recollection. More here: https://inquirer.com/politics/trump-impeachment-philadelphia-lawyers-van-der-veen-brennan-20210209.html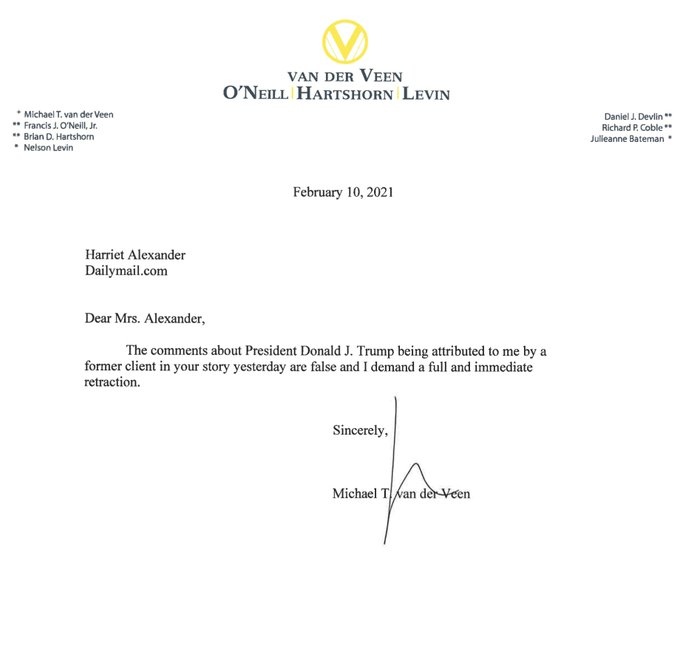 12:52 PM · Feb 10, 2021
https://thepoliticalinsider.com/report-trumps-own-impeachment-lawyer-called-him-a-fuing-crook/?utm_campaign=TPI02102021BR2&utm_source=criticalimpact&utm_medium=email&utm_content=8defbef99449296aa6473c7b9fa19141&source=TPICI
Thanks to: https://thepoliticalinsider.com